Overview
'Windfall' is the story of how three people's lives become inextricably interwoven around a beautiful sailing yacht, Wavedancer which, after being liberated from the Nazis at the end of World War II, is shipped across the Atlantic only to be rescued from destruction on the rocky approaches to Newport, Rhode Island by her ultimate owner, Gus Jorgensen, a sail training instructor. Told to a jazz soundtrack and the background roar of the Atlantic ocean, the excitement builds from the very first page to a nail biting and quite unexpected conclusion.
Jake Davenport, one of Wavedancer's trainee crew, and 'Charley' Charles, a Canadian high school saxophonist, meet by chance at the 1964 Newport Jazz Festival. Although immediately attracted to each other, a series of dramatic circumstances seems determined to drive them apart. After a tragic accident in Newport, Jake ends up on the US west coast with a drug and alcohol habit which nearly destroys him, while Charley suffers her own fair share of problems in Halifax, Nova Scotia before heading down to play the New York club scene with her all-girl jazz band.
Despite their paths crossing in some unusual and unexpected ways, it seems that their troubled relationship is finally doomed when Jake, after enlisting in the US Navy, is posted to Vietnam at the same time as Charley takes up a teaching post in London, England and joins the peace movement.
When a badly injured Jake is eventually repatriated to a convalescent home in the United States, he is re-united with Gus and Wavedancer.
In the meantime, Charley has married an American jazz drummer, Frank Mitchell, just a few months before giving birth to a daughter. When Jake learns about the marriage, he realizes that the time has come to let her go.
But when, by chance, he learns the truth about what's going on in Charley's life, he realizes how much she means to him and determines to track her down and do what he can to help. Little does he know that this is going to prove the most difficult and dangerous challenge of both their young lives. Will this ill-fated couple ever be able to rekindle their love or is destiny determined to keep them apart?
You don't need any knowledge of the sea or sailing boats to appreciate and enjoy the breathtaking beauty of a mid ocean sunrise of the sheer terror of a full blown Atlantic storm. This book is neither part of a multi-book series, nor a crime novel. It is a stand-alone, dramatic and, at times, scary love story, with twists and turns that will keep you on the edge of your seat to the very last page.
Windfall – Behind the writing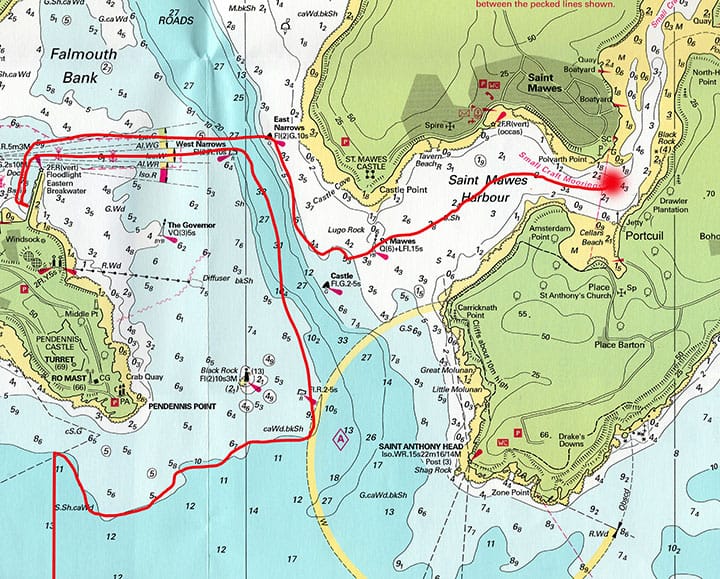 Chart showing Windfall's approach and entrance to Falmouth Harbour and her subsequent journey across the Carrick Roads and up the Percuil River to the Roseland Maid's mooring opposite the tiny boatyard at Portcuil.
Windfall has had a long and at times convoluted gestation. It all started fifty years ago when I was at art school in Ealing, West London. While primarily studying graphic design, we were also encouraged to take an interest in film and film credits. One of the movies we were introduced to at that time was a hauntingly beautiful documentary, Jazz on a Summer's Day, which was made during the 1958 Newport Jazz Festival in Rhode Island. Directed by commercial and fashion photographer, Bert Stern, the film is set against the background of the America's Cup yacht races that were taking place out in Narragansett Bay, just off Newport. With no dialogue apart from occasional announcements by the emcee, Jazz on a Summer's Day is all about the people and the music, featuring performances by Thelonius Monk, Dinah Washington, Gerry Mulligan, Chuck Berry, Louis Armstrong and Mahalia Jackson. During Chuck Berry's set, two unidentified young people are filmed dancing together in the shadows. They are obviously in love and the camera is equally obviously in love with them, returning time and again to catch their mesmerised faces, notably during Mahalia Jackson's rendering of the Lord's Prayer which provides a fitting finale to the film. Reckoned to be so culturally, historically and aesthetically significant Jazz on a Summer's Day was selected by the Library of Congress for preservation in the United States National Film Registry.
Well, it certainly stuck with me and I have watched it, in whole or in part, many times over the years. On one such occasion, a rather miserable winter evening when the Rhode Island sunshine looked particularly attractive, those two dancing figures caught my attention yet again and for the first time I started to wonder who they were, where they came from, and what might have become of them.
But then, rather than embark on a rather pointless quest to track down the two individuals, I came up with an even better idea, I would invent and write their story, as if the boy was one the sailors and the girl some kind of a jazz fan.
Then came the scary bit, the blank sheet of paper.
Luckily, as with most writing projects, research came to the rescue, starting with the history of the Jazz Festival itself. Because I wanted to feature the uncomfortable juxtaposition between the positivity and hopefulness of the space race with the obscenity of the Vietnam war, I set my opening chapters in 1964, four years after Jazz on a Summer's Day was first released and six years after it was shot.
From that moment on, I became immersed in the Festival, the town of Newport and, eventually, one specific element of the Vietnam war, the riverine action on the Mekong Delta. After that, one thing led to another and my fledgling project, initially titled, All That Jazz, began to grow legs. Strangely, one of the things that provided the greatest amount of impetus was the naming and fleshing out of my two characters, Jake Davenport and 'Charley' Charles (it is a nice coincidence that Jazz on a Summer's Day was re-released in 2001 by Charly Records).
As soon as those two guys got their voices, we were off on the roller coaster ride that is Windfall.
Although offshore sailing is complete mystery to most people, I have worked hard to try and demystify as much of the technical stuff as possible, concentrating instead on the joy, exhilaration and occasional terror and discomfort that go to make up this unique obsession.
I had a great time writing Windfall and hope that you enjoy reading it.